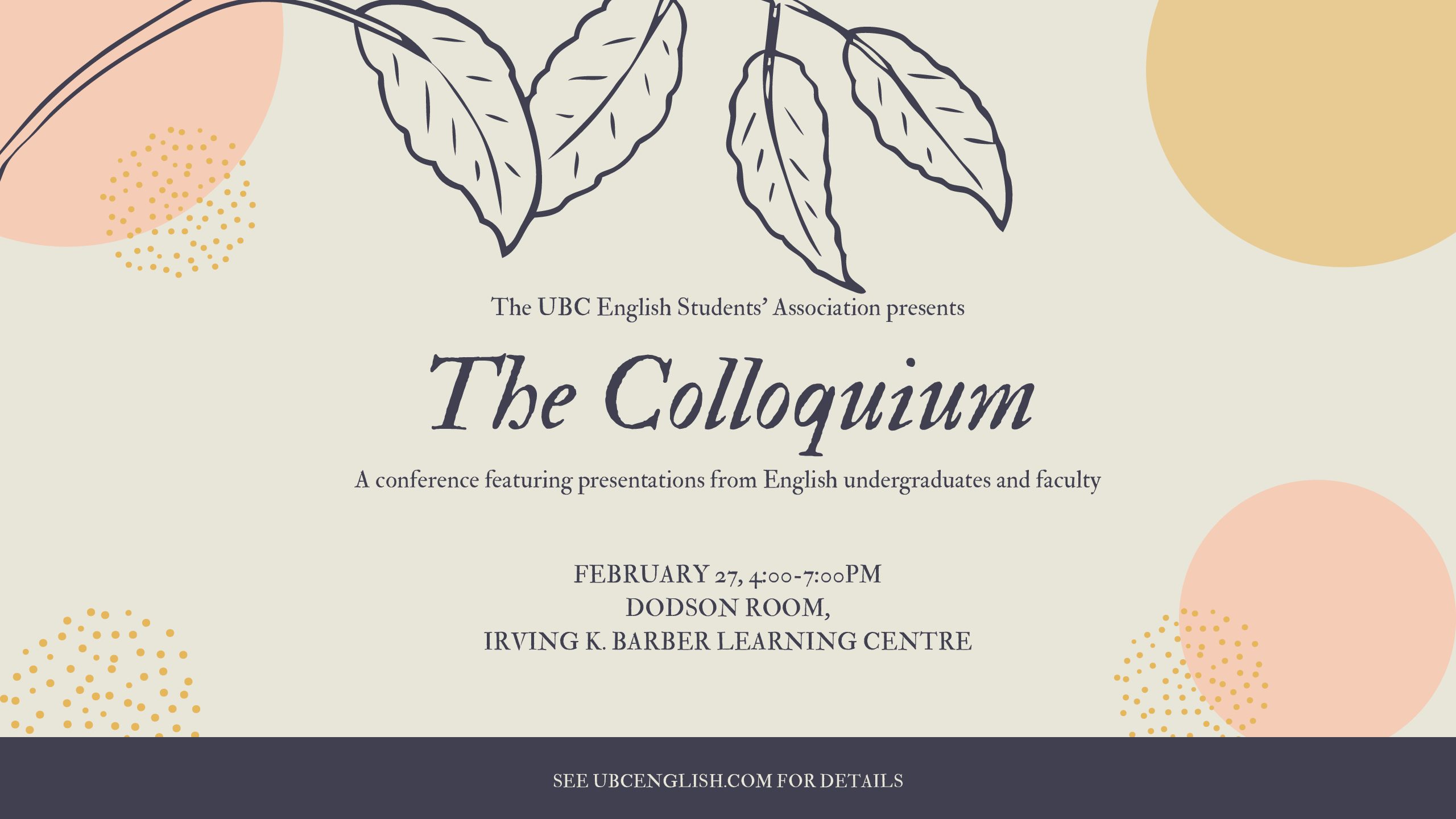 The English Students' Association is hosting our sixth annual academic conference, The Colloquium! This conference features presentations from English undergraduate students and faculty members. The Colloquium offers the opportunity to share your work and discuss ideas with other students and faculty members in the English Department. Please see below for more detailed information!
Event Information
Time: 4:00pm – 7:00pm
Date: February 27th, 2020
Location: Dodson Room, Irving K. Barber Learning Centre
RSVP: on Facebook!
The event schedule, along with the presenters' abstracts, will be released closer to the event date.
Presenters and Abstracts
Dr. Lise Gaston
Reading Carriages in the Eighteenth-Century Novel
Using Frances Burney's 1778 novel Evelina as a case study, in this paper I argue that the carriage operates as an important narrative, symbolic, and gendered space in eighteenth-century fiction, and thus offers us a way of reading the era's socioeconomic transitions and upheavals, as well as the developing novel genre. I show how carriages stage a simultaneously symbolic and literal manifestation of the period's increasing confluence of social and economic mobility, just as they both traverse and elide so-called public and private spatial divides. The vehicle is also a site for formal analysis of setting and plot: but if we read the carriage ride as an image, as well as a means, of narrative progress, then the physical passivity of the often feminized subject sitting within suggests the myriad ways the eighteenth-century heroine is not in control of her own narrative.
---
Braedon Pauzé
When I Looked Up the World Was Dirty: An Analysis of Masculinities in Virginia Woolf's Between the Acts
The technological advancements in aeronautics during the interwar period engaged Virginia Woolf as the aeroplane's ability to traverse the English Channel undermined the literary and cultural notion of Britain's impenetrability, raising vital questions of communal identity. However, the object of the aeroplane in Woolf's oeuvre is deeply contested in the surrounding scholarship. Scholars such as Paul K. Saint-Amour and Jackson Ayres argue that interpretations of the aeroplane are inseparable from collective British anxieties of past and future war. I contend that these kinds of unitary interpretations of the aeroplane privilege perspectives that emerge from hegemonic masculinity and ignore the alternative masculinities present throughout Between the Acts (1941). Through an analysis of characters such as Bartholomew Oliver, Giles Oliver, and William Dodge, I will develop a more nuanced portrayal of masculinity and its relationship to war.
---
Lauryn Collins
"Don't Go Through the Door": Isolation, Curiosity and the Symbolic in Neil Gaiman's Coraline
The archetype of the portal is broadly present in children's literature, appearing almost universally as a site of whimsy and adventure through which a child may grow and explore. Neil Gaiman's Gothic inversion of the whimsical portal trope in Coraline raises intriguing questions regarding isolation, curiosity, and psychological development as exemplified through the liminal landscape of the narrative. Analyzing Coraline through Kristevan psychoanalysis and Erickson's Stages of Psychosocial Development, this paper discusses Coraline's experiences with the portal as an embodiment of her psychosocial crises of maturity, as well as the literary elements of the narrative that transform the portal from a site of wonder to a site of abjection.
---
Colby Payne
Another Day, Another Drama: Celebrity Worship in Frank O'Hara's Poetry
In Frank O'Hara's poems "Ave Maria" and "Poem (Lana Turner has collapsed!)," he portrays celebrity worship as a religion, providing an escape from Catholicism and the suffocation of suburban America. In O'Hara's holy vision of Hollywood, he celebrates the humanity of its stars, bypassing condemnation for a more humanistic approach to faith. However, O'Hara doesn't ignore the inherent hypocrisy of the Hollywood publicity machine, alluding to the fact that while a certain level of scandal is tolerated and even celebrated, there is a limit beyond which stars must be punished before they may once again rise to glory.
---
Katie Lund
Her "State of Honour": Lady Macduff, Maternity, and Feminine Agency
This paper examines the presentation of femininity in Shakespeare's Macbeth, with particular emphasis on the positive, virtuous image of femininity expressed by Lady Macduff in opposition to the ruling ideology of masculinist warrior culture in the world of the play. It takes up Janet Adelman's argument that Macbeth presents only an unhealthy version of femininity and maternity warped by patriarchal fears, in the character of Lady Macbeth, and refutes it by demonstrating the importance of the Macduff family with Lady Macduff at its head. Lady Macduff's virtue, intellect, sense, and maternal skill provide an alternative to the play's disturbing misogyny and violence, and her death displays the destructive consequences of subscribing to the masculinist system.
---
Raphael Diangkinay
Investigating Complicity: Queer Orientations, Disorientations, and Futurity in Larissa Lai's Salt Fish Girl
In Salt Fish Girl, Larissa Lai critiques the intersections between modern imperialism and settler colonialism in producing pathways of exploitation of Chinese labour. She renders these pathways as emerging out of the constructs of settler colonialism through her utilization of the historical, futuristic, dystopic, and mythological. In the paralleled experiences of Miranda and Nu Wa, Lai is able to critique how being complicit to these pathways is inevitable, and is tied to the innovation of these power structures. Through Ahmed's work on Queer Pheomenology, I utilize her frameworks on Orientations and Disorientations as a mode of analyzing the phenomenological experiences of Lai's queer characters. By analyzing how queer futures emerge out of the paralleled storylines of Nu Wa, Miranda and Evie, I will demonstrate how queerness has always oriented itself away from these established pathways and moves towards arriving at queer futures.
---
Any questions?
Email us at blog@ubcenglish.com!